Our pegs are made from marine grade 316 stainless steel. There are many alternatives available in inferior grades but Ezy pegs are rust and corrosion free which is essential for the Australian climate.
Consumers want bang for their buck! They would rather buy something useful than do a donation or buy a raffle ticket. They are willing to help clubs out when they know it's a fundraiser – so why not give them something useful.
There is no initial outlay for clubs. It only takes one person to coordinate the advertising and the sales. It's that Ezy!
Our pegs are shipped locally from Waroona in recycled and reused cartons.
Our stationery is printed on recycled paper. We are a 100% Australian owned local business that loves face to face contact if we can deliver in person.
buy less, choose well, make it last!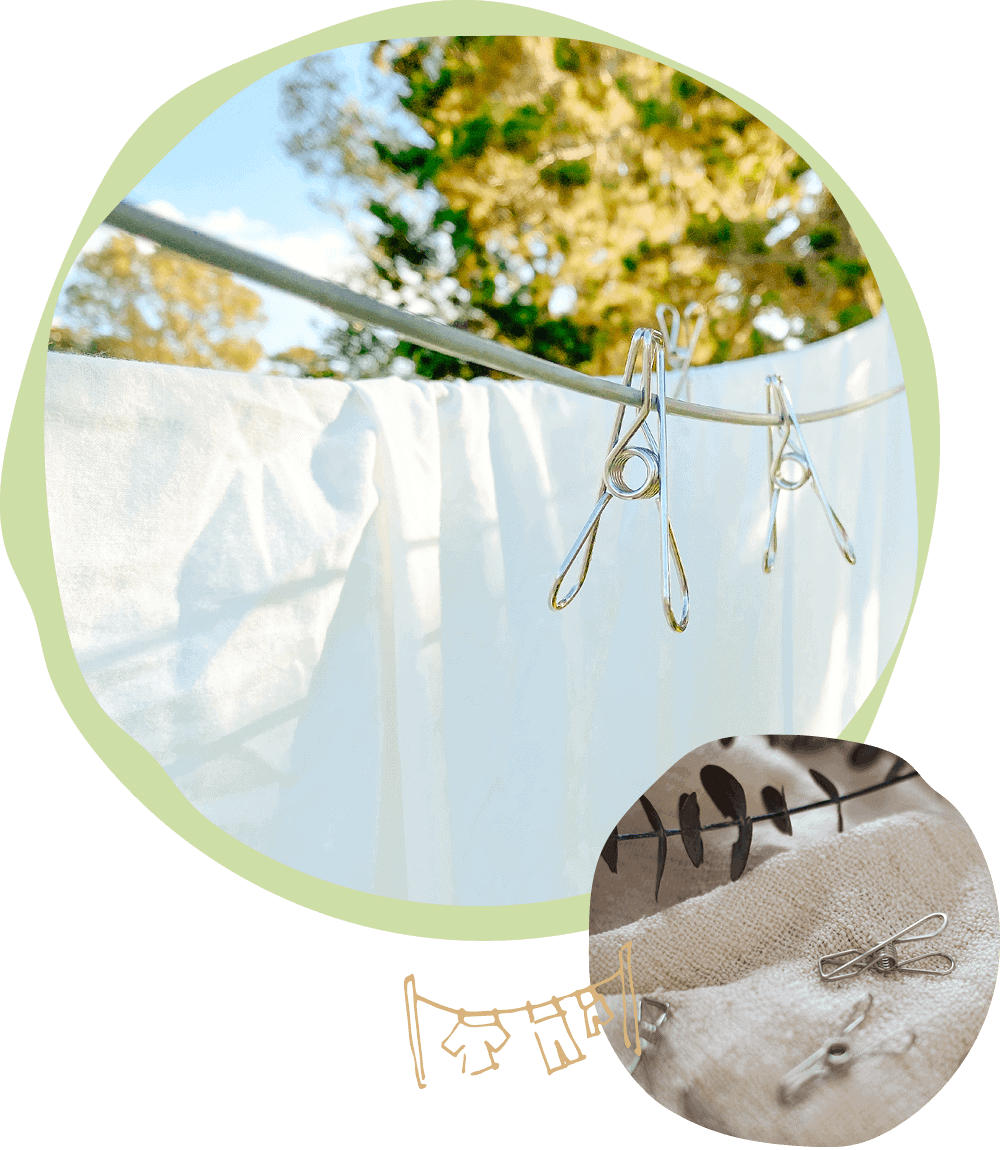 frequently asked questions
We believe in offering you a product that is useful to the end-consumer, lasts the test of time and is a positive impact on the environment! More than that, we want to make sure you can successfully raise money in the process.
But there's more! To help reduce the pinch, there is no initial outlay for clubs. It only takes one person to coordinate the advertising and the sales.
It really is that Ezy!
Why don't I just buy cheaper pegs at a supermarket?
Metal pegs have been available in the marketplace for a long time.
Ezy Fundraising pegs are made from marine grade 316 stainless steel. 316 is molybdenum-alloyed steel and is the second most common austenitic stainless steel (after grade 304). It is the preferred steel for use in marine environments because of its greater resistance to pitting corrosion and rust than other grades. 316 stainless steel is capable of withstanding the harsh effects of salts and chlorines, which are commonly used in washing detergents. This is the grade needed to leave them on the clothesline 24/7 in all Australian coastal conditions.
Supermarket pegs commonly feature this care tip: Keeping your pegs clean and dry while they are not in use will prevent damage. Ideally, bring them inside between loads. Made from 304 stainless steel.
Our pegs do not need to be brought inside between loads or require cleaning/drying.
This means your members are not only buying a better quality product that will last them a lifetime, but the very little difference in peg price, they are contributing to their local community by helping out an organisation fundraise at the same time.
Is there a minimum order?
We believe clubs can make easy sales (and in 2021, customers have proved this) however to cover our costs, we have a minimum of 30 bags to be sold. With this minimum, we cover all the freight costs. If your club, for some reason is unable to obtain this easy amount, the postage costs will be added to your Tax Invoice for payment.
We have slightly different Terms and Conditions if you are an interstate (non WA) organisation then the below applies to you:
For all orders of 300+ bags of pegs, eZy Fundraising will post free of charge to your club
For all orders under 300 bags, eZy Fundraising will pay for 50% of the postage costs
We believe this to be the fairest way for us to help organisations Australia wide. We will use Pack and Send or Australia Post, depending on the destination, to make sure it will be the cheapest option for clubs. This can be estimated at the beginning so make sure you ask us.
Here's what people have to say!
What a great fundraiser! The ladies from eZy were fantastic. From my initial first enquiry, Heather and Deb were prompt and extremely helpful.
The actual fundraiser was super easy and streamlined and the ladies touched base regularly to see how we were going.
Our little school made a nice profit for no outlay other than a little time.
Thank you eZy Fundraising we'll be in touch next year!